Creating a good visual brand is all about making it look pretty and nicely designed, right?
Well, no, that's not exactly true. Although that is important, there is so much more to it than that.
Another vital part of creating a successful visual brand is talking effectively with your customers. Effective communication really helps your results
And to do that, you need to attract their attention. It's what the experts like to call "brand visibility''
But how do you do that?
Well, big brands are continuously researching how their products and marketing are being viewed by people.
One technique used is called eye tracking. This involves respondents wearing special goggles that track exactly where their eyes are looking as they walk through a room or look at marketing material.
They also use another method involving a colour monitor with eye-tracking widget things. This can record the pattern of eye movement when a poster or brand communication is shown on the screen.
All clever stuff. And it's great because it helps us all know some of the consistent triggers that people are attracted to.
For example, research has shown that the use of images in marketing – particularly advertising – is really important.
The human eye will always look at an image or photograph first before reading anything on any marketing material.
And interestingly, the eye is especially drawn to look at images of the human face. Especially if that face is looking directly at you. It's the eyes, you see. We can't help looking into the eyes of someone looking at us. (A bit like those old paintings where the eyes follow you around the room.)
Remember the old recruitment posters of Lord Kitchener from the first world war? There is a reason why they have become one of the most iconic and replicated adverts of all time.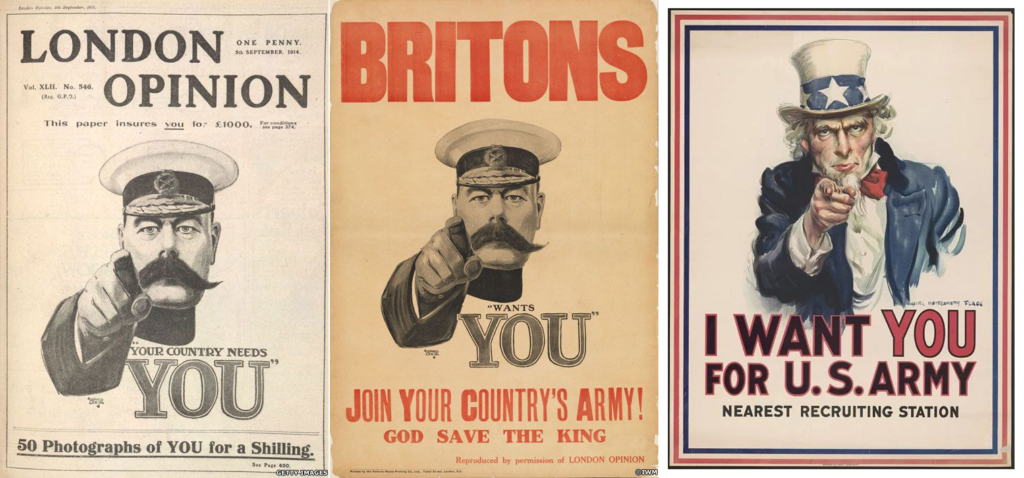 I've tested it myself with our own Othen Creative online marketing. The ads with a human face performed 40% better than the ads featuring an object. (Although I would always recommend split testing any online advertising to test the results, as different elements may work better for different industries.)
Images of women and famous faces are the biggest attraction to the human eye (to both men and women apparently) And there are plenty of examples of brands who have used this little trick too – particularly sport-related brands who in the past have traditionally used dynamic action sports imagery are now more recently testing the results of full-face images in their advertising.
Lucozade's recent marketing featuring sporting icons like Gareth Bale and Anthony Joshua, uses full-face imagery on striking bright background colours instead of full-body action photography. When tested, the full-body images received more positive feedback from consumers about the design, but subconsciously the face shot worked better.
Capital One's advertising for their sponsorship of the football league cup also features striking full face images of football players.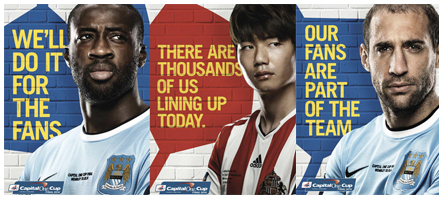 The faces of children and babies are also attractive to the human eye, which makes marketing a doddle for those brands whose products are aimed at young families. But plenty of other brands have also harnessed the power of a cute little face to sell their products over the years too.

Let's face it (see what I did there?) – for branding marketing to be successful, it needs to do more than look pretty, and harnessing the power of attractive imagery is one way to help achieve the right results.
Did you enjoy this blog? Why not sign up for our
FREE 17 Marketing tips emails delivered straight to your inbox.
Simple, easy tips that could help you think differently about
your marketing. Just click here to sign up